St Thomas the Apostle Church
Elkhart, Indiana (USA)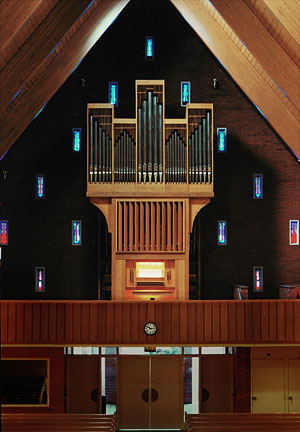 Builder:
Russell & Co, Cambridgeport, VT
 
Year:
1991
Opus: 12
 
Case
 
    Builder:
    Date:
    Materials:
White oak
Console type:
Integral
Stop controls:
Draw knob
Pedals type:
 
Action
    Key:
Mechanical, suspended
    Stop:
Mechanical
Temperament:
 
Tuning (a'):
 
No. stops:
19
No. ranks:
25
No. pipes:
1268
Wind supply
 
    Power:
Electrical
    Pressures (mm):
Manual: 75; Pedal 85
 
Bibliography:
The Diapason, March 1992
 
Comments:
Incorporates some older pipes, rebuilt. All flue pipes are 94% lead except case pipes which are zinc and burnished 53% tin. Great and Pedal reeds of German baroque style, in 50% tin. Pedal Bourdon and bottom octaves of manual flutes of wood. Swell Cromorne after Dom Bedos, 70% tin.
Specification
GREAT
 
8
Principal
 
 
8
Bourdon
1-12 rebuilt
4
Octave
 
2 2/3
Nazard
2
Blockflöte
1 3/5
Tierce
V
Mixture
 
8
Trompet
 
SWELL
 
8
Gedeckt
1-12 rebuilt
8
Viole
1-12 rebuilt
8
Voix Celeste
 
4
Rohrflöte
2
Principal
III
Scharf
8
Cromorne
Tremulant
 
PEDAL
 
16
Bourdon
8
Offenbass
1-32 rebuilt
4
Choralbass
 
16
Fagot
 
COUPLERS
 
8
Swell to Great
8
Great to Pedal
8
Swell to Pedal